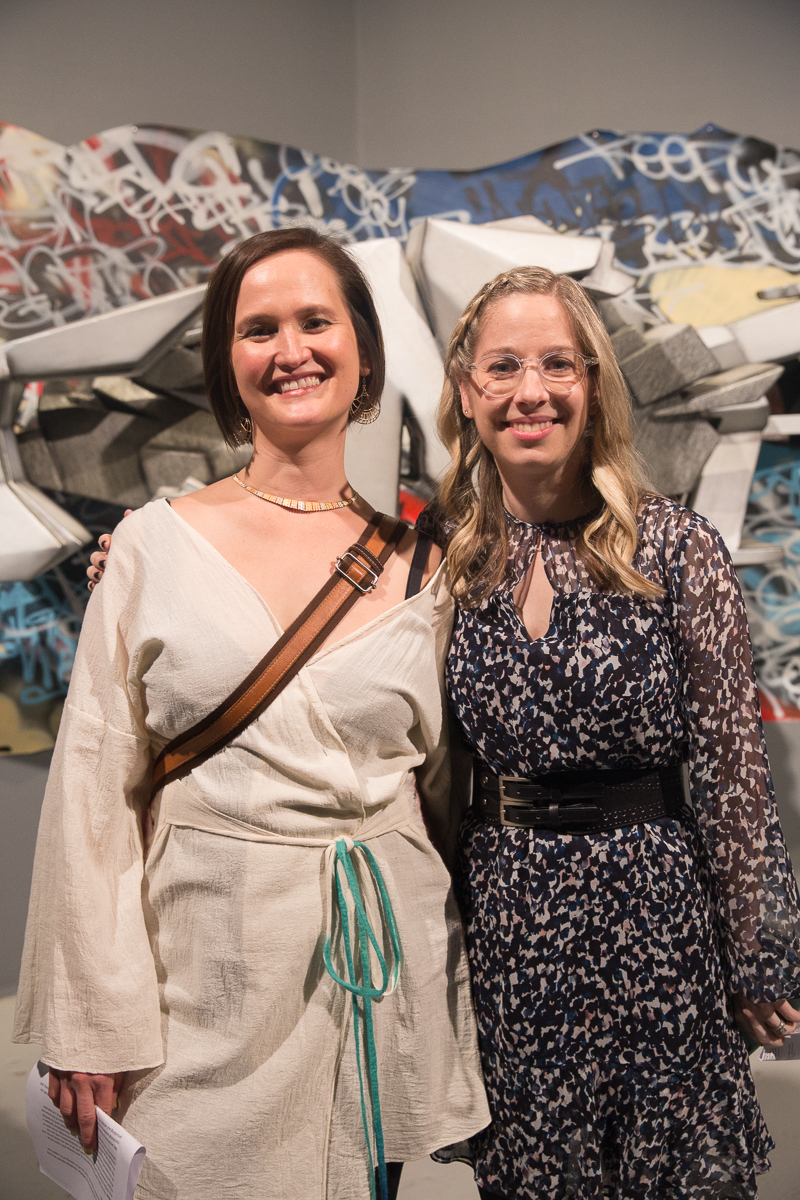 Photo of curators Vanessa Chang and Lindsey D. Felt standing shoulder to shoulder in front of a graffiti installation. Lindsey has wavy blonde hair and wears translucent glasses, a gauzy black and white dress with a black double buckle belt. Vanessa has a short dark brown bob and wears a gold choker necklace and a long sleeved white kimono top. A brown bag strap crosses her chest.
Lindsey D. Felt and Vanessa Chang curated Recoding CripTech, a multidisciplinary art exhibition at SOMArts Cultural Center in 2020. Their curatorial work has been profiled in venues such as Art in America, KQED Arts, Disability Visibility and DisTopia.
Dr. Lindsey D. Felt, a Bay Area native, writer and deaf scholar, is a lecturer at Stanford University, where she teaches courses on disability, writing, and technology. She received her Ph.D. in English from Stanford University. Her research focuses on disability innovation and technology in the postwar era, specifically how disability shaped conceptions of electronic communication; science fiction and disability futurity; access and assistive technologies; and disability rhetorics. Most recently, her writing has appeared in Catalyst: Feminism, Theory, Technoscience, and she serves as the Disability and Impact Lead at Leonardo/ISAST.
Dr. Vanessa Chang is a writer, curator and educator who builds communities and conversations about art, technology and human bodies. She is Director of Programs at Leonardo/ISAST and teaches in Visual and Critical Studies at California College of the Arts. She holds a Ph.D. in Modern Thought and Literature from Stanford University, where she was a Geballe Fellow at the Stanford Humanities Center. Recent exhibitions include Intersections at Fort Mason Center for the Arts and Artobots, a CODAME festival of art, automation and artificial intelligence. She has appeared on NPR's On the Media and State of the Art, and written for Wired, Slate, Los Angeles Review of Books and Noema Magazine, among other venues.